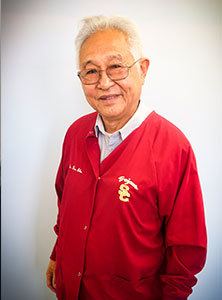 Joseph Abe, DDS

Whether you need a simple procedure, such as tooth-colored restorations (fillings) or more complex ones, such as dental crowns, bridges, dental implants or more, Dr. Joseph Abe is very experienced and can help you achieve your dental goals. His mission for the practice is for you and your family to keep your teeth for your whole life without ever needing major dental work again. We strive to enhance the quality of life for everyone associated with our practice.Dr. Joseph E. Abe is a "Sansei" Japanese‑American who was born in Colorado, lived in Utah, and was raised with his family in the Pasadena area, graduating from John Muir High School. He went on to attend Pasadena City College and then enrolled in the University of Southern California, where he received his undergraduate and dental degrees. His father, Dr. Joe Y. Abe, also a dentist, founded the practice in 1938. He is constantly continuing his education with over 70 hours of training each year in the field.
Dr. Abe is an active member of the community, being a past president of the San Gabriel Valley Dental Society and past president, and charter member, of the Pasadena City College Foundation. He has served as a dental consultant to the Los Angeles County School Head Start Grantee Program and served as a staff dentist for the South Bay Children's Center.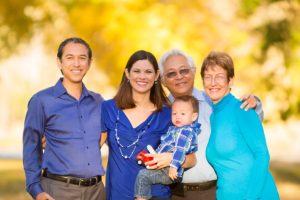 A ski patroller for 25 years, Dr. Abe was patrol leader at Bear Mountain and Snow Forest ski areas in Big Bear, California.
He and his wife, Joni, have three sons—two of which are married—and 5 grandchildren who they absolutely adore! They are avid skiers and also love to mountaineer and travel together.
Dr. and Mrs. Abe attend Evangelical Free Church, and Mrs. Abe has been a discussion leader for 16 years with Bible Study Fellowship International.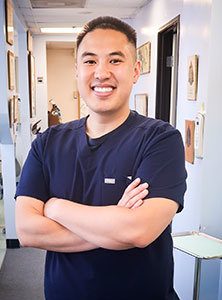 Cuong Nguyen, DMD, MPH
Dr. Cuong was a refugee baby, born in Indonesia and raised in Los Angeles since he was 9 months old.
To Dr. Cuong, patients come first. Taking the time to let his patients be heard and finding out what they want so that he can help them achieve their best health is his priority. Patients appreciate his gentle touch and calm demeanor.
Dr. Cuong earned his B.S. degree in Biochemistry and Cell Biology from UC San Diego and a dual degree in Doctorate of Dental Medicine and Master of Public Health at the Arizona School of Dentistry & Oral Health. He was the recipient of the Outstanding Achievement in Operative Dentistry and Hanau Best of the Best Prosthodontic Award.
He went on to care for medically, physically, and mentally compromised individuals at a Federally Qualified Health Center in Philadelphia. Dr. Cuong takes great pride in keeping his patient's teeth in proper health, comfort, function and esthetics. Dr. Cuong strives to provide a positive, personalized and most importantly a meaningful dental experience for each of his patients.
Dedicated to providing the state of the art care, he stays current on the latest advancements in dentistry through continuing education and maintains memberships in the Academy of General Dentistry, West Los Angeles Dental Society, California Dental Association and American Dental Association.
When he's not in the office, you may find Dr. Cuong enjoying the next Netflix special with his wife, catching a UFC event amongst friends, or cuddling with a French bulldog.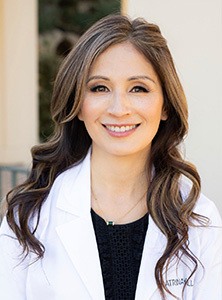 Katrina Yuille, DDS
Dr. Yuille has a passion for volunteering to serve under-privileged communities that she developed rotating through hospitals in Harlem and the Bronx while getting her Doctor of Dental Surgery from Columbia University, graduating in 2004. Her goal as a dentist is to promote the best practices to serve her community.
Before then she was a biochemistry major at UCLA. Now she takes between 30 and 40 continuing education credits every year to keep herself up to date in the dental field so she can provide her patients with care.
She completed a 1-year Aesthetic Dentistry Fellowship at Tufts University and is a member off the ADA®, San Gabriel Valley Dental Society, San Gabriel Study Club, California Dental Association, Pasadena Chamber of Commerce and Kidspace Children's Museum Circle of Friends.
Dr. Yuille practiced dentistry for eight years and then took seven years away to raise her son. In 2019, she returned to practicing dentistry.
She loves yoga and good food, and she is proud of her husband who is a visual and digital effects supervisor and has worked on popular TV shows including, The Walking Dead, American Horror Stories and Marvel's Agents of S.H.I.E.L.D. He was also nominated for the Emmy's in 2015.


Meet Our Team


Our excellent dental team in Pasadena, California, is dedicated to helping our patients create the beautiful smiles and healthy teeth they've always wanted. Learn more about the people that keep our practice by reading below. If you have any questions for us, please call us at 626-795-3301 today.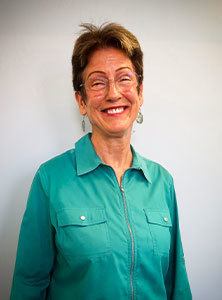 Joni Abe – Administrative Human Resource CoordinatorJoni is thrilled to be a part of a people-oriented team of caring professionals. She is equipped with life credentials, having taught elementary school and special education. She has volunteered for Bible Study Fellowship, a non-profit, for over 25 years. She has been blessed to raise three sons and has five beautiful grandchildren. In her free time, Joni loves snow skiing, Jazzercise, ballet, hiking and traveling.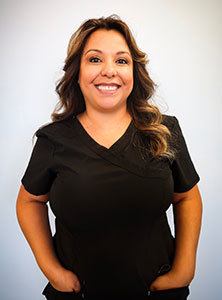 Maria – Office ManagerMaria has been in the dental field since 1988 and through the years she has become friends with many of the patients she has met. She loves working with an amazing staff and a wonderful doctor. When she is not in the office, Maria has four grandsons that keep her very busy! She loves spending time with her family, going to the beach and taking vacations with her husband.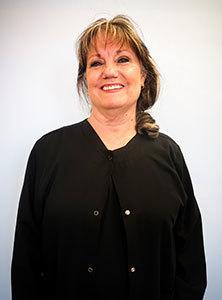 Lynne – Front Office Manager Lynne has been a fixture in the dental field since 1976, spending 25 years as a registered dental assistant and 18 and counting as a front office manager. She loves working with our patients and making their experience a pleasant one. Lynne recently became a first-time grandmother to a beautiful grandson! In her extra time, she loves to quilt, make dolls and other crafts, and, of course, shopping!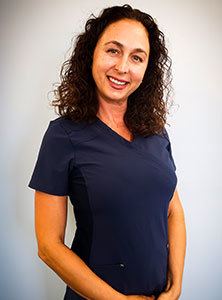 Connie – Registered Dental HygienistConnie has been in the dental field since 1991 when she became an RDH. Her favorite part of being at our practice is working with an amazing staff who support each other in a warm and caring environment. She loves to get to know her patients and their families and ensure that they get to keep their healthy smiles. Connie has been married to her loving husband for over 20 years and has 3 wonderful teenage daughters. In her free time, she enjoys exercising, hiking, trail racing and gardening with her husband.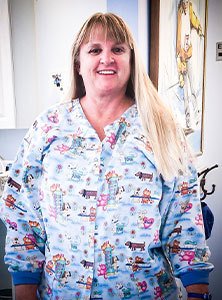 Cheryl – Registered Dental HygienistCheryl has been in the dental field for over 30 years as a registered dental assistant and a dental hygienist. She deeply enjoys meeting people from many walks of life and feels like she has learned as much from her patients as they have from her. She finds it very rewarding to educate patients on how to attain optimum oral health, which everyone deserves. When she's not in the office, she loves camping, hiking and spending time with her family.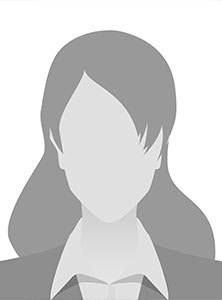 Grace – Registered Dental Hygienist Grace graduated from USC Grad School of Dentistry (University of Southern California). She has worked for Dr. Abe for 26 years.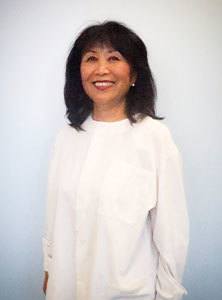 Karen – Registered Dental HygienistKaren is a graduate of the University of South California School of Dentistry, with a Bachelor of Science in dental hygiene. Karen has worked for Dr. Abe for many years and is truly thankful to be part of our team. She finds Dr. Abe and his team to be a joy to work with, and much of that is due to how much everyone truly cares about their patients' oral health and their overall wellbeing. Karen and her husband, Will, live in Anaheim Hills and they have an adult daughter, Elizabeth, who lives and works in Washington, DC. They also have two Pomeranians named Yoshinoya and Pokemon. In her free time, Karen loves traveling, ballroom dancing and keeping in touch with her daughter and her exciting life. She and her family are quite active in her their church.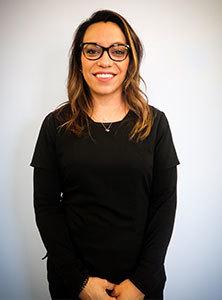 Kimberly – Registered Dental Assistant Kimberly has worked in the dental field for over 20 years, and as a registered dental assistant, she is certified in CPR, coronal polish, X-ray and dental sealants. She loves working with a friendly staff who she laughs with all the time. She respects that our doctors are honest and kind. Kimberly has been married to her husband Erik, a fellow RDA and dental technician, since 2001. They have two beautiful and active kids who keep them busy with sports activities.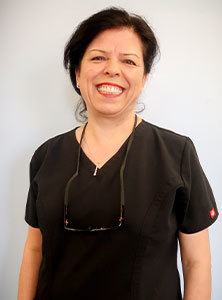 Lisa – Registered Dental Assistant and Oral & Maxillofacial Surgery Assistant Having been in the dental field for over 35 years, Lisa enjoys helping people, meeting new patients and getting to know their individual story. She fluently speaks four languages: English, French, Armenian and Arabic. In her free time, Lisa loves to cook.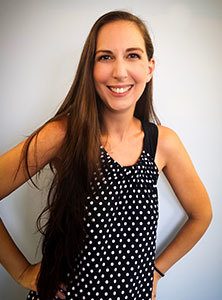 Marlene – Social Media Manager Marlene has been in the social media field since 2018 and has been helping us grow our online presence on Instagram, Facebook, Google, and Yelp. When she's not working she enjoys spending time with her husband and daughter, vacationing, going to Disneyland and hanging out with friends and family.